NMN-21

Share
Three-Dimensional Manual Micromanipulator (Narishige)
Description
The NMN-21 is designed to operate without drifting - one of the most critical problems in delicate patch clamping work. The unit has no hydraulic system (which can cause drifting because of temperature changes), and no springs. Jitters transmitted via the control knob, a typical limitation of manual systems, are minimized to avoid their vibrations reaching the electrode tips and disrupting fine manipulations. Since the NMN-21 is motorless, has no actuator, yet its compact body is sufficiently stable for use with multichannel micromanipulation systems, even electromagnetic disturbance is eliminated. If required, the unit can be fixed to the top of an isolation table with the specially designed GJ-12 magnet stand (optional).
The slider, which is one of the main mechanisms of a micromanipulator, actually consists of two independent sliders; one used inside, the other outside. When the operator touches the control knob, which is connected to one slider, vibrations are caused. To overcome this problem, the control knob is fixed independently, separate from the slider.
Movement range
Fine 6 mm (X,Y and Z axes)
Coarse 15 mm (X,Y and Z axes)
Full rotation of knob  Fine 250 µm
Minimum graduation      Fine 1 µm
Full rotation of knob      Coarse approx. 4 mm
Dimensions   110 (W) × 110 (D) × 110 (H) mm
Weight   0.75 kg
Accessories for the NMN-21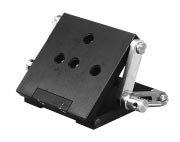 NMN-A Tilting Stand
Attached with the NMN-21, this tilting stand makes it possible to incline a manipulator at any angle up to 45 degrees, and drive it in the same direction as the electrodes.
Accessories    Allen Wrench
Dimensions    W 50 × D 80 × H 14 mm
Weight   120g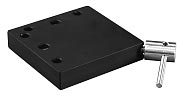 NMN-B Rotating Mechanism Unit
Used with the NMN-21 micromanipulator, this convenient unit allows quick and easy microelectrode and specimen exchange.
Accessories    Allen Wrench
Dimensions    W 50 × D 80 × H14 mm
Weight    120g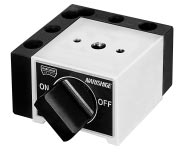 NMN-C Magnetic Stand
This magnetic stand is specifically designed for use with the NMN-21. Its compact design requiring minimum space, and free installation, e.g. on a isolation table.
Accessories    Allen Wrench
Dimensions   W 50 × D65 × H30 mm
Weight   500 g