Model 1600

Share
Neuroprobe Intracellular Amplifier (A-M Systems)
Description
The Neuroprobe Amplifier Model 1600: Designed to surpass the exacting requirements of intracellular neurological studies and provide the research scientist with versatility, accuracy and ease of operation.
The instrument consists of a high input impedance amplifier combined with current injection and bridge balance circuitry, allowing simultaneous stimulation and recording through the same electrode. The internal Dual-Function Transient Control and the DC balance Control assure extremely precise recordings during current injection without requiring an external bridge or a differential input oscilloscope. High-resolution ten-turn potentiometers are used for the DC Offset, DC balance, Current Injection, and Capacitance Compensation controls. Measure electrode resistance and adjust capacitance compensation using the internal 100 Hz test pulse. An easy to read Digital Panel Meter produces a highly accurate display of membrane potential, injected current or electrode resistance.
The Neuroprobe Amplifier's advanced current injection system, adjustable to 0.1 nA resolution, allows external switching of both internal and external current sources. The total current from all sources can be displayed on the Digital Panel Meter prior to injection. This capability allows the user to inject the exact amount of current desired. Depending upon the requirements of the experiment, the user can also select either momentary or continuous injection.
This Iontophoresis Adapter allows the researcher to apply greater voltages to the micropipette for iontophoretic injection of drugs or dyes, or any other application where currents greater than those provided by the Neuroprobe Amplifier are required.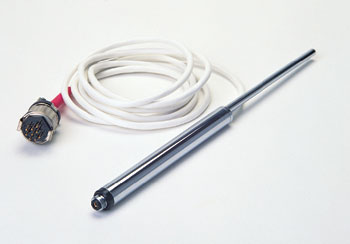 For proper operation, the purchase of a Model 1600-compatible headstage is required. Please mention about it when ordering.
The Model 1600 Head Stage can be conveniently adapted to a wide variety of experimental situations and comes complete with a mounting rod and bracket for a standard micromanipulator and a standard 2 mm connector for a half-cell microelectrode holder.
Common applications for the Model 1600 Neuroprobe Intracellular Amplifier include, but are not limited to:
Intracellular recording of single cell action potentials
Current Clamp
Dye Injection
Ultra-low noise extracellular recordings
The Model 1600 Neuroprobe Intracellular Amplifier has been an industry leader for over 25 years, and is still among the quietest recording amplifiers available on the market.


Features:
Digital display of membrane potential, injected current, or electrode resistance
Square-wave generator for testing electrode resistance and capacitance compensation
Current injection system adjustable to 0.1 nA resolution
Simultaneous stimulating and recording by a single electrode
Transient and DC balance controls
Low-pass and Notch filters
Includes rack mount hardware
3-year warranty
Also see: